BackBlast from the 2.0 'Happening" on June 16th:  Hey, when you have *86* dads and their 2.0's show up for a pre-Father's Day KidsVergence workout, what else can you call it?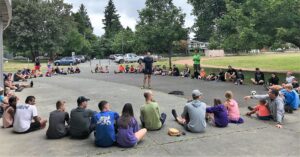 Pax:  Too numerous too mention (check out COT posted on our FB site by Dilfer/Swanson ):  Kramer (Q), Elroy (faithful assistant)
Warmup:  SSH, Merkins
The Happening:
Catch Me if You Can:

Kramer leads the masses to the track for a vigorous lap:  Dads run backwards while kids wait and count their age(s).  Kids then run to catch up with the dads, then make them do an exercise of their choice

Football field exercises

: Work our way across and back doing wheel barrows,  Swedish planks, piggy backs, bear crawls, squats

Burpee master class

: Kramer and Elroy demonstrate how a burpee is done properly, with bonus demo of the BRO-pee
Water break!
Mosey to ball field next door
Split the crowd into to groups: younger kids and aged 10+

Freeze tag

: kids and dads alternately being "it".  Need to do an assigned exercise to unfreeze yourself

Soccer

COT

Name-o-rama

:  Dads consulted within their immediate clan for a moment, and then we did a full round of name-o-rama, announcing their 2.0's F3 names, dedicated and honest – awesome!
Thank you all for allowing us the honor to lead this 2.0 event.  Next year must certainly step it up, as we are very likely looking at 100+!!
Have a great Fathers' Day and summer all you bad ass F3Dads!