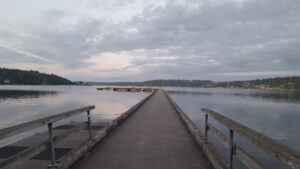 7 Men Started Their Friday By Getting Better At Log Boom Park
The PAX: Lafleur, SPAM(Q), Narwhal, FSBO, LIFOs: 5th Wheel, Tardy, Turtle(FNG).
Warm it up PAX: Cotton Pickers 15xIC, Windmills 10xIC, Prisoner Squats 10xIC, Plankorama: during plank we held a mini-Qschool. 1st of 4 installments. This one was on the core principle of peer-led workouts and how to call an exercise. VolunQs Lafleur, Tardy and 5th Wheel took turns demonstrating with 10 Low Plank Jacks IC, 10 LBC IC, and 10 Merkins IC. Recover.
Mosey to low wall for Pike Rally. That wall is suddenly longer than any of us remember.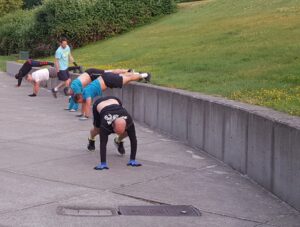 Mosey to the tarmac for The Cooper: Descending ladder of burpees, merkins, and squats, (10-10-10, 9-9-9, etc) separated by 400m run between sets. (5th Wheel turns out to be fast)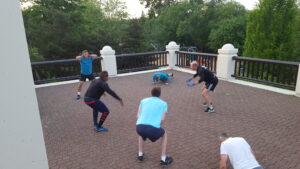 (Unintentional) Q school part 2: time management. After 3 sets cooper was modified to even numbers only…so we completed: 10,9,8,6,4,2.
Mosey to dock.
Bearcrawl to watervalve (~50m).
Plank for the 6.
Spread out planks for railroad tracks, continue laying tracks down the dock until 6:15am unceremoniously hit us about 3/4 down the dock.
CoT
Announcements: Convergence Murph Memorial Day. Log Boom Park going on the books next week.
WoW: Lafleur highlighted the crossover from body fitness to mental toughness (#whywedohardthings) and recognizing the benefit this brings to all our roles as fathers, husbands, brothers, work, etc.
Spreadsheets
– No Dunder, Mifflin, Seabass, or Dingy:☹ Just ain't the same without you…
-5th Wheel gets faster after some burpees.
-excited about mini-Qschools to raise IQ (see what I did there?) and reiterate core principles. Poach this and make it part of your next Q.  It can be as simple as 1 thing that has helped you Q better–perfect for airchair, plank, and other "active recovery" moments.  AP does it regularly, and if you ever workout with Dredd, it lasts the whole workout.
-Great to have Turtle out there with us–that dude is an athlete. He is recovering from some injuries and downtime but standby.
-An honor to lead a workout with you men, get after it today.