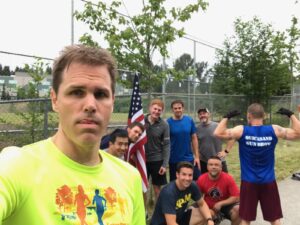 PAX: Hollywood, Salsa, Worthington, Dry Dock, Hurley, Goats, Spam, Brady, and Xbox (Q)
Warmup: Run around the field, 10 IC Good Mornings, Windmills, Cotton Pickers, Merkins, and 15 IC Arm circles to include flapjack.
Thang:
4 Corners. Home 25 LBCs, visitor Burpees AMRAP; YHC decided to switch up the order, so we ran the corners 3, 1, 4, 2; with 2 being in the far corner, it lead to the salmon ladder. 😋
Salmon Ladder up: increments of 2 Diamond Merkins per level, all flat travel done with walking lunges; pickup 6 once done.
Salmon Ladder down: Starting at 16, down by 2 on each level: Sumo Squats; all flat travel, reverse lunges; pickup 6.
Head to track. YHC started with the idea 5-10-15-20 repititions of Jillian Michaels at each corner, but after corner 2, switched to 5-10-10-5.
One more time with Carolina Dry Docks, but we stuck with the count 5-10-15-20.
Headed back to the field to do Abs in the reverse order of the corners we did at the beginning: 20 LBCs, 10 World War IIIs, 20 American Hammers, and YHC forgot what the fourth corner was.
Spotlight loves running backwards, so we ran the corners backwards at the end as well.
On the second round of AMRAP burpees, Salsa found it appropriate to pace the speed… which allowed YHC to keep up.
Spam did not let me run slow on the laps around the track. Grrrr. Love you man.
Brady helped count cadence during warmup.
Glad to have you back Worthington!!! Thanks for the good words from the Star Course. Encouraging.
I always get better hanging out with Goats and Hurley. Great attitude and hard workers! Get at it men.
Great location Hollywood. Thanks for being an awesome Site Q. I'm working on some men to help build it up…the long, slow EH.
YHC provided WoW: attention management. Don't let electronics grab your attention. Set time aside to give important things sole attention.
Thank you for letting me lead you men. Have a great week. Get at it and earn that Redwoods patch tomorrow and Saturday.