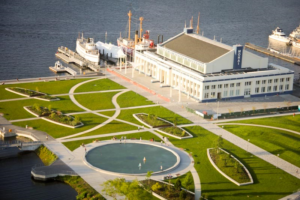 PAX: SPAM, Samsonsite, Spellcheck, Talent, Gekko, Caesar, Kemp, La Fleur, Bangkok, Stigmata, Squid, Kojak, and Xbox (Q)
The 13th straight unique Q arrived in Mohai to allow 13 to beat themselves with the following exercises:
Warmup: run a lap around the square; 10 IC Cotton Pickers, 10 IC Good Mornings, 10 IC Windmills, 10 IC Imperial Walkers, 10 IC Merkins, 15 IC Arm circles, and 15 IC Arm circles flapjack.
Bring your own paid: AMRAP
The timer is everyone doing 15 wall balls.
Round 1: AMRAP 5 burpees, 10 lunges each leg, 15 Yellow Hammers
Round 2 : AMRAP Mucho Chesto, and Mucho Abbo (made up name for doing 10 each of LBCs, heals to heaven, eagle crunch left, eagle crunch right, and WW1s)
Still time to wreck ourselves.  Four corners.  I like it because we stay together.
Count off by 4.  Home is your numbered corner.  Otherwise, you are a visitor.
Round 1: Home – 25 Sumo Squats, Visitor – Burpees
Round 2 Home – 25 4 count American Hammers, Visitor – Reverse Lunges
3 MoM (no recovery until Q calls): 20 each IC Flutter Kicks, Rosalitas, Dollies.  Le Fleur then did a 10 count while we held at 20 degrees to close us out with a challenge.
Announcements: Worthington Family Fun Weekend; you should be getting a message from Remind weekly now.  If you are not, please go to http://f3newguy.com and enter your information.
WoW: Stigmata praised every man there, and really every F3 man not there, by admitting to a previously low upper body strength that disallowed him from mountain biking on downhill trails.  He can now do this, and acknowledges that it is F3 that got him there.
This is why we come yo!!!!  Getting everyone better.
Pleasure to lead you all at MOHAI this morning.  Have a great day men.