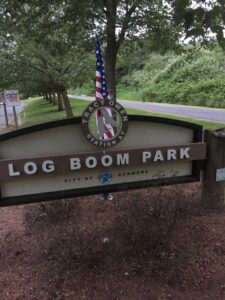 20 men posted at Log Boom this morning to get better and start their quest for a tiny red patch.
PAX: Magic, 5th Wheel, Olaf, Narwhal, Guero, FSBO, 7-Layer (Cotter), Gekko, Dunder, Mifflin, Drydock, Mash, Lafleur, Buckeye, Sundevil, 529er, Hurley, Salsa, Alexa, SPAM (Q).
WARMITUP: Cotton Pickers, Windmills, SSH, Mountain Climbers, 12x each, IC
PLANKORAMA: Hi-plank, Lo-plank. During Plank we held a mini-Q-school: when in charge, take charge = audible cadence and clear direction. 5th Wheel led us in 10x Merkins IC, Olaf led us in 10x Squats IC, and Drydock led us in 10x Diamond Merkins IC.
Hairpin Sprint w/ Burpees at the corners.  The Hairpin is 2 legs, each about 200m. 5 burpees at start, middle and end at the Tarmac.
Partner up for Catch Me If You Can–exercise was 1 burpee, 1 Merkin, 1 Jillian Michael. Go from Tarmac to the dock.  Mosey to small docks with your partner.
The Revolver: each pair called an exercise for the rest of the PAX to AMRAP, then ran to the middle of the horseshoe for 10 Partner Handslap Merkins, then run back and next pair goes until each pair has called an exercise: Squats, WW1s, Captain Thors, Flutter, Plank Jacks,  Burpees, Sumo Squats, Merkins, Freddy Mercurys, and Partner Handslap Merkins–Nice touch by 529er to finish it.
It was 6am at this point so YHC called a modified Dora with run to the end of the dock and partners combined for 50 merkins, 100 squats, 150 LBCs.
6MoM: 20 flutter, 10 flutter arms up, Captain Thor 1-4-1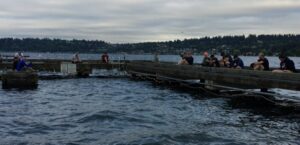 Announcements:
Patches etc,–hit the posts on the interweb to get the details
Custom Tough is coming 10/19, Buckeye is Q, it promises to be AWESOME–check it out.
Terrain Race is coming up this Sunday. 5K with obstacles, $30–pretty cheap as far as CSAUPs go.
WoW:
Gekko doubted YHC's mettle and judgement to start the LBP AO, but doffed his imaginary hat to the apparent success of the morning.  Gekko is on Q next week–we will see what he can bring to the table.
Alexa asked for "real" words.
Gekko said "Gratitude, bitch, get some." YHC laughed heartily in the moment and several times later in the day, just thinking about it.
YHC offered the When in charge-Take charge maxim as a challenge for the day: find a place in your life today (home, work, wherever) where you can take charge and lift yourself, the people around you, or the situation you are in by exerting the force of your leadership.  You have more power than you realize, and when faced with a grumpy kid, an exhausted wife, or a soup sandwich at work, you can lift that situation to a better place by stepping into it with leadership instead of mentally shrugging and passing it by.
Let's get it gentlemen–an honor to lead you this morning.