8 men showed up at Gasworks for my first official Q on a beautiful sunny Cinco de Mayo.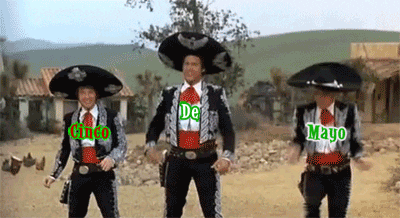 PAX: Kemp, Dink, Bankok, Sundevil, Hurley, Hubber, Waxy. No FNGs.
As you'd expect, everything was "5" themed, but I wanted to add a bit more so I did some research. I wanted to find whatever the Mexican equivalent of the MARSOC Short Card, but I found so little on Google that I'm not sure if they even do PT. So we settle for the "second best" on Cinco de Mayo, the French. Most specifically, the French Foreign Legion.
Warmup
Mosey to the helicopter pad
5 Muricans
5 burpees
5 WWI sit-ups
5 Sumo squats
5 windmills
The Thang
We started with the French Foreign Legion fitness test:
Luc Leger: Also known as the "Beep Test" in the English-speaking world. Two lines, 20m apart. A beep track is played with tones every 10 seconds. Run to the second line, rest until you hear the second beep. Repeat. Over. And over. And over. At each minute mark, the beeps get slightly closer together. When you can't make it to the line in time, drop out and plank until everyone else is out.
Mosey to the pull-up arch on the north side of the garbage dump
Pull up test: Split into two groups. Active group does max rep pull-ups one at a time, with the rest of the group doing side straddle hop while they wait. The other group runs to the corner and back in a loop until the first group is done.
FFL standard: Minimum 7 rounds in the Luc Leger, and 4 full-extension pull-ups
Just for fun we did some animal movements (bear crawl & crab walk) on the basketball court.
Next we did some "hill marches":
Mosey back to the platform
5×5: Step ups, Box Jumps, Dips, Incline Muricans, Decline Muricans
Mosey to the top of Kite Hill
5×5: Mucho Chesto! Muricans, Manspreading Muricans, Diamond Muricans, Offset Muricans in each direction
Mosey to the dock
5×5: Sumo Squats, Lunges, Squats, Little Man in the Woods
Mosey to the top of the hill
5×5: LBC, Russian Twist, WWI Situps, 4 count 6″ flutter kicks, 4 count 45 degree flutter kicks
Announcements
New locations and times!
Wow
Hug your four legged friends. I lost my 14 year old very loyal cat to kitty cancer a couple of weeks ago, but in the hustle-bustle of life I never fully internalized how much I missed her until later. We spend a lot of time and energy thinking about the humans in our lives, and it's easy to forget our little furry "people".
Kemp: Our communities need our leadership. Find small ways to practice leadership in your lives, and don't be afraid to step up. Challenge for today: Buy flowers for a loved one on the way home.