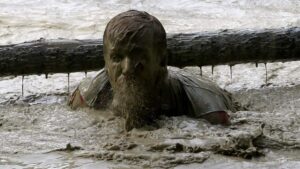 PAX: Peleton, Primate, Passport, Gekko, XBox, Big City, Dookie, Talent, Spotlight, Warthog, FSBO, Dig Dug (Q)
Thang:
CoP – YHC finds a good wet, muddy spot to begin. New Blue(Frank DiGirolamo) inspired exercise – "Roll", drop, perform full roll, 3 merkins. Alternate with Mountain Climbers.
Roll until sufficiently wet and muddy. (Note: Gekko's version of roll somehow manages to keep his entire upper body dry …..)
Mosey, with intermittent "Roll!" maneuvers.
Charles Bronson – WOD consistent of sprints, exercises and low crawls for time. Dookie crushing this with a 13m time. Xbox right behind with 15m.
FSBO's mumble chatter created a smile for the Q – "This is the second most terrible workout behind Blue's."
Mosey for Ladder of Derkins and Box Jumps until nauseous.
Ground work with sandbags and balls to the wall.
6MOM – Plank-o-rama
Spreadsheets:
Xbox and Big City CRUSHING the ground work. Damn.
Dookie is a beast, dominating Charlie Bronson and the Box Jump Ladder.
Great to see Talent on the Eastside and for coffeeteria!
FSBO's Operation Sammy a continued success … we had some guy in the middle of the park admiring the sign.
Announcements:
12/9 – 12 pm, Canned Food Ruck. See 7-Layer.
12/12 – Breakfast after Needle
12/15 – 6 pm Chainline, Charity Poker. See Swinger.
12/22 – Kims Convergence
Words:
We do hard things to ground ourselves and increase our appreciation for things like …. being warm and dry.